Director, New Product Introduction and Development - In Vitro Diagnostics (NJ-HYBRID or US-REMOTE)
Mountain Lakes
Req ID JR-037862
Apply Now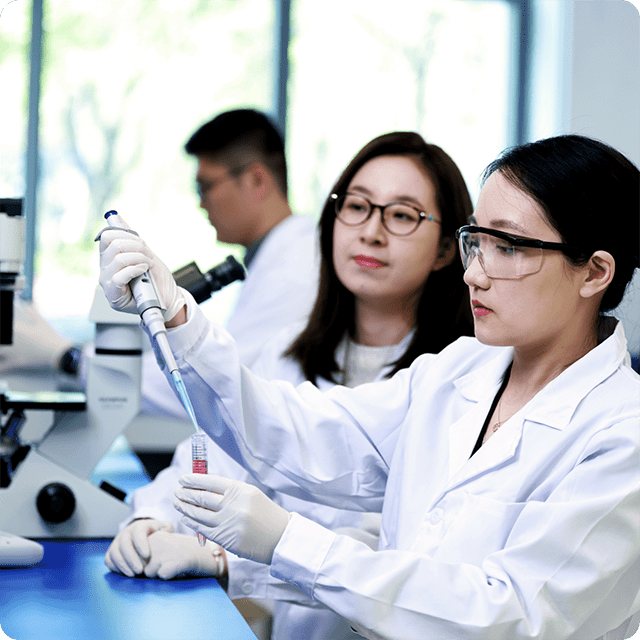 Revvity | About Us
Revvity is a developer and provider of end-to-end solutions designed to help scientists, researchers, and clinicians solve the world's greatest health challenges. We pair the enthusiasm of an industry disruptor with the experience of a longtime leader. Our diverse team of 11,000+ colleagues from around the globe are vital to our success and the reason we're able to push boundaries in pursuit of better human health.
Find your future at Revvity.
EUROIMMUN US (a Revvity Company) is one of the leading manufacturers of medical laboratory diagnostics worldwide. EUROIMMUN US stands for innovation and is dedicated to improving the science of diagnostics and people's lives worldwide. Our extensive product portfolio and innovative technologies are designed to provide quick, accurate, and reliable diagnoses. More than 3,300 employees in 17 countries develop, produce, and sell test systems to support the diagnosis of diseases, as well as software and automation solutions for the performance and evaluation of these tests. Laboratories in over 140 countries use our assays and automation for autoimmune, infectious disease, allergy, antigen, and molecular testing. EUROIMMUN US proudly prioritizes a people-centered culture, securing a spot among New Jersey's 2023 Top Places to Work.

JOB SUMMARY

EUROIMMUN US is seeking a highly motivated and experienced Director, New Product Introduction and Development to join the exciting area of in vitro diagnostic products. This including reagents and automated instruments spanning various disease portfolios such as autoimmune, infectious disease, allergy, antigen detection, and molecular diagnostics. The Director, New Product Introduction and Development is responsible to provide technical and program management leadership for EUROIMMUN US to successfully bring new products or legacy RUO products from product development, validation, through FDA authorization and commercialization. The candidate will lead a team of laboratory scientists to interface with various cross functional new product introduction development teams, pharmaceutical partners, regulatory/clinical, and leadership teams. We are seeking a seasoned in vitro diagnostics (IVD) technical product development leader with a background in program management that desires to translate vision into defined objectives and executable plans throughout the product development process and serve as technical leadership for analytical and clinical evidence generation for regulatory submissions.

This role will report to the Senior Director of Regulatory, Analytical, and Clinical Affairs.

ESSENTIAL FUNCTIONS
Launch North America New Program Introduction Management function.
Provide technical and program management leadership from concept to completion by fully leading the mechanisms which ensure successful program outcomes.
Function as liaison and thought leadership to cross functional workstream leaders, executive sponsors, partners, while demonstrating an eye for the tactical elements of new product introduction and development.
Drive projects that may span multiple businesses, functions, or regions within EUROIMMUN and Revvity.
Serve as the technical new product introduction program lead and deliver program portfolio analytics, including resource, schedule, financial management.
Track each program's value realization post-implementation, and oversee the program governance.
Own the end to end success of new product introduction development, ensuring accountability, execution timelines, and budget accountability to deliver on-time, quantitative, and qualitative results.
Lead and manage product development and validation process, including study design, validation protocol development, and execution to ensure they meet targeted timelines, established technical requirements, regulatory guidelines, and industry best practices.
Oversee the validation of EUROIMMUN assay and automation, ensuring their accuracy, precision, and reliability.
Maintain in depth relevant scientific knowledge, including regulations, and conduct literature review to ensure that all technical validation activities comply with regulatory standards.
Assist in preparing documentation for regulatory submissions.
Create, review, and maintain validation protocols, reports, SOPs, and related documentation to ensure traceability and compliance with regulatory requirements.
Perform analysis of validation data, interpret results, and make data-driven recommendations for technical improvements and adjustment.
Collaborate with R&D scientists, regulatory/quality/clinical affairs, and statisticians to ensure robust data analysis.
Ensure the collection of study data is accurate, complete, and conforms to IVD regulatory submission data standards and protocol requirements.
Identify and assess potential risks associated with methods and instrumentation, implementing mitigation strategies as needed.
Manage and mentor team members on day-to-day activities, best practices, and regulatory guidelines.
Drive continuous technical and business improvement initiatives for new program introduction, striving for improved efficiency and effectiveness.
Provide essential information to Leadership Team to support decision-making and prioritization of projects that align with strategic objectives.
Provide insights into new product introduction program and portfolio performance via plans / reports.
Address issues, advancing as necessary, to overcome obstacles to ensure business needs have been met & delivered on schedule.
Aid in planning, managing, and staffing of human resources for new product introduction programs.

BASIC QUALIFICATIONS
Bachelor's degree or Master's degree in life sciences and twelve years experience in IVD product development and program management.
Demonstrated capability and experience in the successful implementation of sophisticated, cross functional programs and technical product development/delivery.
Prior management or leadership experience in IVD product development.
Ability to travel up to 15%, both domestic and international.

PREFERRED QUALIFICATIONS 
Advanced degree or equivalent work experience.
Your network is a key attribute.
Experience in leading analytical and clinical validation studies to support IVD regulatory submissions IDE, 510(k), De Novo, PMA, or PMA supplement submissions. 
PPI/Lean/Six Sigma Certification.
Experience in utilizing Monday.com, Microsoft Project, Smartsheet, or similar project management tool.
Experience implementing a project portfolio management (PPM) system and maintaining a portfolio.
Experienced with proforma analysis of resource needs for project roadmap.
Well versed in the aspects of regulatory strategy creation, design control, cGMP/Quality Systems, risk management, and import/export requirements.
Demonstrate understanding of advanced technical/scientific principles related to IVD reagent chemistry, laboratory automation, and software components of IVD medical devices.
In-depth knowledge of FDA IVD regulatory requirements and guidelines related to analytical & clinical validation.
Experience in writing and reviewing product specifications, validation protocol/ reports, analytical methods, development reports, release, and stability.
Detail oriented with a commitment to accuracy and data integrity.
Demonstrated ability to take initiative / ownership, analytical and problem-solving skills, scientific curiosity, passion, critical thinking, provide strategic input, and ability to quickly adapt and shift focus as needed.
Effective verbal and written communication, analytical, and interpersonal skills.
Solution oriented approach complemented with a calm voice of reason.
Ability to quickly grasp complex data points, see linkages that span across various areas & synthesize a coherent picture to drive discussions that improve the outcome of the projects.
Able to lead multiple projects simultaneously & seamlessly navigate challenging demands with zero impact to results.
Demonstrated ability to manage & influence leadership personalities while maintaining strong professional bonds.
Ability to collaborate with all functions within the organization, handling outside consultants, external partners, and in-depth know-how of our organization.
COMPENSATION RANGE
The base salary range for this full-time position is $147,000 - $270,000/year. This range reflects the minimum and maximum target for a new hire in this position. The base pay actually offered to the successful candidate will take into account internal equity, work location, and additional factors, including job-related skills, experience, and relevant education or training. Your recruiter can share more about the specific salary range for your preferred location during the hiring process.

Please note that base pay is only one part of our total compensation package and is determined within a range. This range allows for the successful candidate to have an opportunity to progress within the position and develop at our company. This base pay range does not take into account bonuses, equity, or other benefits which may be applicable and are dependent on the level and position offered.
WHAT DO WE OFFER?
We provide competitive and comprehensive benefits to our employees. Below are some highlights of our benefits:
·Medical, Dental, and Vision Insurance Options
·Life and Disability Insurance  
·Paid Time-Off
·Parental Benefits
·401k with Company Match
·Employee Stock Purchase Plan
Learn more about Revvity's benefits by visiting our Why Revvity page.
Apply Now
Similar Jobs
Training Coordinator - Operations

San Diego, CA

Senior Manager Quality Assurance - In Vitro Diagnostics (PA-HYBRID or US-REMOTE)

Harrisburg, Dauphin County, PA, Austin, TX, Boston, MA, Chicago, IL, Mountain Lakes, NJ, Princeton, NJ, Raleigh, NC, Springfield, IL, Trenton, NJ, Waltham, MA

Director of Technical Operations, North America

Mountain Lakes, NJ