Customer Service Representative II - Order Administration
San Diego - BioLegend
Req ID JR-037900
Apply Now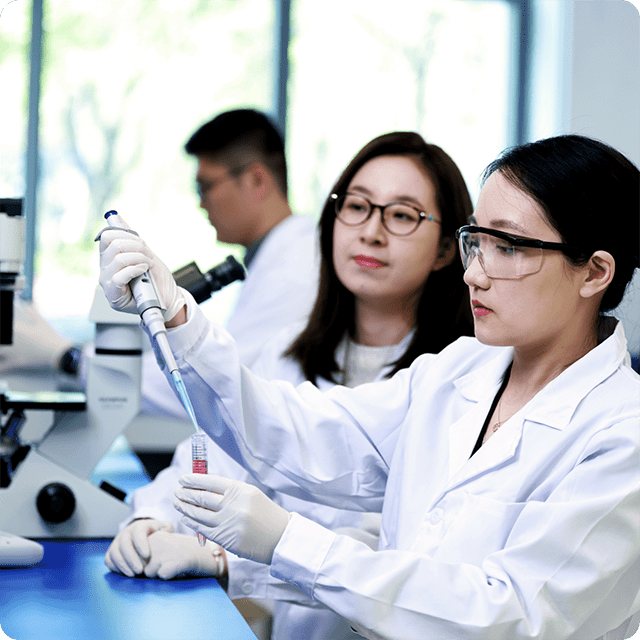 BioLegend | About Us
At BioLegend, we are committed to providing researchers with the most comprehensive and cutting-edge high-quality reagents for life science research. Being part of Revvity, a global provider of health science solutions, technologies, expertise and services for life sciences and diagnostics, allows us to extend the mission of enabling our customers to do legendary discovery. Join us and make a difference!
What does science and service mean to you? For our Customer Service Team, it is a chance to be a part of legendary discoveries – from research to cure. Our team recognizes that with each customer served and each order processed, we are making a difference. Being a part of BioLegend's Customer Service Team means being at the forefront, showcasing legendary service and translating our iACT culture into tangible results for our customers.
On our team, you can expect a dynamic and fast-paced atmosphere. You will be a part of an inclusive and collaborative environment where peers from all different walks of life come together with one common goal – providing our customers with Legendary service. At BioLegend, you will enjoy the perks of a state-of-the-art campus including outdoor yoga classes, fitness center, wellness rooms, a Café with a variety of hot and cold meals, a buffet, and more!
Essential Functions
The BioLegend North America Customer Service team is looking for a motivated, innovative, and energetic individual to join our team. With a mindset of always being open to improvement, we are looking for someone to perform these Job duties and who looks at how we can improve them.
Reasonable accommodations may be made to enable individuals with disabilities to perform the essential functions. Job duties and who looks at how we can improve them.
Be an agent of change – listen to ideas, share thoughts and work together to implement process improvements.
Upon completing training period, enter and accurately process high volume of daily orders (100-150 daily) into our Enterprise Resource Planning (ERP) database system.
Identify any discrepancies or potential obstacles that could impact on-time delivery to effectively communicate with the customer for a timely resolution.
Consistently meet or exceed productivity and quality expectations to support legendary service targets and surpass customer satisfaction; Identify and solve any potential roadblocks that could affect those goals.
Confidently navigate multiple system applications to deliver legendary service in every interaction throughout the order life cycle.
Provide exceptional service to customers over the phone and via email to place new orders and provide availability and delivery information. 
Be the subject matter expert on the intricacies and fulfillment criteria of multiple ordering platforms.
Be familiar with the specific customer needs for various public and private research institutions.
Run reports generating snapshots to keep team informed on daily progress.
Properly route or address non-technical customer inquiries regarding delivery information of current and previous shipments, the status of their orders, and invoices.
Assist Associate Customer Service Representatives with addressing customer expectations.
Become eligible to serve as a Qualified Trainer for the team.
Maintain a professional level of privacy regarding confidential customer information.
Actively participate in our daily department meetings, owning metrics and providing thoughtful insight and solutions to challenges.
Other projects or responsibilities as may be required.
Nothing in this job description restricts management's right to assign or reassign duties and responsibilities of this job at any time.
iACT Competencies
innovate – Be better, keep improving, be more efficient, creative, and be in the forefront of development
Aspire – Have desire, purpose, and ambition challenging ourselves to push the limits and reach new heights
Collaborate – Foster teamwork, common goals, selflessness, communication and mutual support
Transform – Adapt, learn, re-invent and change for future development and growth
Minimum Qualifications – Education and Experience
2+ Years of applicable Customer Service experience
2+ Years of experience entering high volume of data or orders (100-150 daily)
2+ Years of experience with EDI order processing
2+ Years of experience with Enterprise Resources Planning (ERP) systems
2 years of experience with Customer Relationship Management (CRM) systems

Preferred Qualifications – Education and Experience
Bachelor's Degree
Proficient knowledge of Enterprise Resources Planning (ERP) systems
Proficient knowledge of Customer Relationship (CRM) systems
Experience with multiple order source platforms
A desire to enact change and strive for innovation
Proficiency with 10-key
Strong computer skills, minimum intermediate proficiency with MS Office programs
Proven excellent verbal/written communication
A desire to enact change and strive for innovation
Strong attention to detail – accuracy is essential
Desire to work in a dynamic, fast-paced environment
Proven track record of de-escalating customer issues with sympathy and empathy
The base salary range for this full-time position is $21-$23/ hour. This range reflects the minimum and maximum target for a new hire in this position. The base pay actually offered to the successful candidate will take into account internal equity, work location, and additional factors, including job-related skills, experience, and relevant education or training. Your recruiter can share more about the specific salary range for your preferred location during the hiring process. 
Please note that base pay is only one part of our total compensation package and is determined within a range. This range allows for the successful candidate to have an opportunity to progress within the position and develop at our company. This base pay range does not take into account bonuses, equity, or other benefits which may be applicable and are dependent on the level and position offered.
Work Environment & Physical Demands - Office
While performing the duties of this job, the employee regularly works in an office setting. Occasional exposure to a laboratory and warehouse environment.
The physical demands described here are representative of those that must be met by an employee to successfully perform the essential functions of this job.
While performing the duties of this job, the employee is regularly required to use hands and fingers to handle, feel, or operate objects, tools or controls, and reach with hands and arms. The employee is frequently required to stand, talk and hear.
What do we offer?
We provide competitive and comprehensive benefits to our employees. Below are some highlights of our benefits:
·Medical, Dental, and Vision Insurance Options
·Life and Disability Insurance  
·Paid Time-Off
·Parental Benefits
·401k with Company Match
·Employee Stock Purchase Plan
Learn more about Revvity's benefits by visiting our Why Revvity page.
*For benefit-eligible roles only. Part-time and temporary roles may not be eligible for all benefits listed. Please reach out to your recruiter for more information.
Apply Now